Obwohl ich seit Jahrzehnten in München lebe, finde ich immer wieder neue Ecken in dieser schönen Stadt an der Isar.
Ich möchte Euch mitnehmen an die schönen, stylischen und ursprünglichen Orte, Lokale und Bars der, wie man sagt, nördlichsten Stadt Italiens. Vielleicht ist hier deshalb gerade die kulinarische Szene so dynamisch. Ein besonderes Schmankerl für die Fleischliebhaber habe ich kürzlich für Euch im Herzen der Stadt entdeckt.
Come in and meet the meat…
…könnte man im "El Gaucho" am Viktualienmarkt sagen.
Wer sich fühlen will, als wäre er bei einer Kochparty in der Küche eines guten Freundes eingeladen, der ist hier definitiv richtig aufgehoben. Die offene Küche mitten im Gastraum zieht den Blick geradezu an und man kann jeden Schritt der Zubereitung seines saftigen, massiven Steaks vom Platz aus beobachten. Vielleicht ist es die österreichische Herkunft dieser Restaurantgruppe, die den Service so aufmerksam aber diskret auftreten lässt. Wir fühlten uns so herzlich empfangen, dass man fast fragen wollte, ob man vor der Türe die Schuhe ausziehen soll, als wäre man bei jemandem zu Hause eingeladen.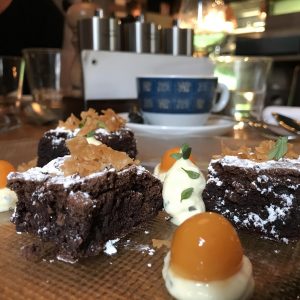 Die bequemen, dick gepolsterten Bänke mit ihren hohen Lehnen schaffen eine intime Atmosphäre an den massigen Holztischen. Die umfangreiche Auswahl an Fleisch lässt sich durch verschiedene Toppings, wie "Soft Shell Crab", für ein "Surf and Turf", Trüffelbutter und verschiedene andere Zutaten adeln. Weil wir den unveränderten Fleischgeschmack beurteilen wollten, entschieden wir uns gegen eine Zugabe aus der Rubrik "Pimp your Steak". Nach dem obligatorischen Signature-Brotkorb mit Butter und verschiedenen Gewürzen kam dann auch recht bald das außen knusprige und innen saftige, medium gegrillte Filetsteak und der Blattspinat als Beilage. Bei der Zubereitung sieht man die Begeisterung des Personals für Ihre Produkte und das schmeckt man auch. Garpunkt und Geschmack waren einfach perfekt. Ein gelungener Abschluss war dann der warme Schokoladenkuchen.
Mein Tipp für Euch: Die Pfeffersauce vom Madagaskar-Pfeffer ergänzt das Rindfleisch ideal, ohne zu überlagern.
Auch wenn es durch die offene Küche gerade im Sommer ganz schön warm werden kann, würde ich auch in Zukunft jederzeit wieder in das "El Gaucho" gehen, wenn ich Lust auf einen besonderen Abend und ein perfekt zubereitetes Steak habe.
Nur sollte man das lieber ein paar Tage im Voraus wissen und reservieren. Es ist nämlich alles andere als leicht, spontan einen Platz zu bekommen.